Share This
Festive Disney Christmas Villages
There's something so crazy-fun about a Christmas Village.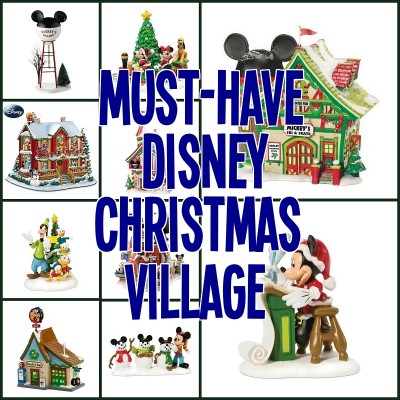 All those tiny little people. The tiny little streetlamps. The fluffy fake (or is it?) snow all around. It's a magical, miniature wonderland.
I like to recreate backstories for all of the folks traipsing throughout the village. Have they gotten all their Christmas shopping done? Are they stressing out over their placement on the Naughty v. Nice list? Will Tiny Tim get a replacement for his wooden leg FINALLY this year, or will we, once again, just be grateful that we have one another?
It's a great way to spend an inordinate amount of time making up stories for, and interacting with, imaginary people, which may be your familiar if you are down with all things Disney.
What better Christmas Village to set up around your house than one that's Totally Disnified? The stories practically write themselves!
And a Partridge in a Pear Treeeeeee! This Disney Tabletop Tree has FIFTY of our favorite characters adorning it, has four levels of rotation, lights up, and plays a medley of fabulous Christmas carols.  Merry Christmas to all and to all a good night!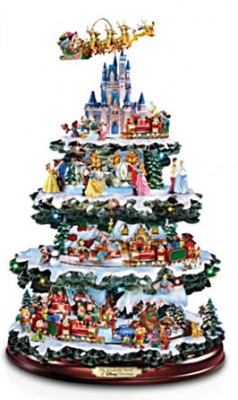 This one is the star of the show! This 'Twas the Night Before Christmas Village House not only has all our favorite friends all about; it has Mickey Mouse reading the classic story as each of the windows light up, one by one!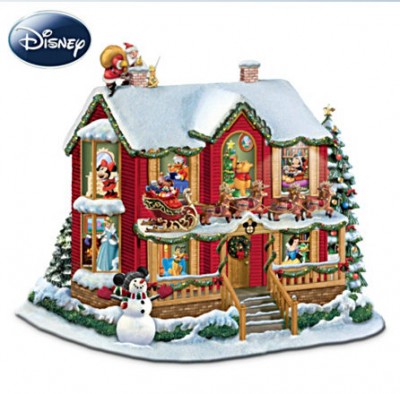 Christmas is a time for sugar comas, which is why we definitely need a Disney Candy Shop in our Wee Village!
We're not sure if he's ringing the bell for Salvation Army or just out of cheer, but either way, we want this Mickey Mouse Bell Ringer in our Christmas Village!
Why, yes, I WOULD like a Christmas Tree with nothing but candy for ornaments and a gold Mickey Mouse Ear Hat on top, thank you! Mickey's Candy Tree is the perfect addition to your burgeoning Christmas Village!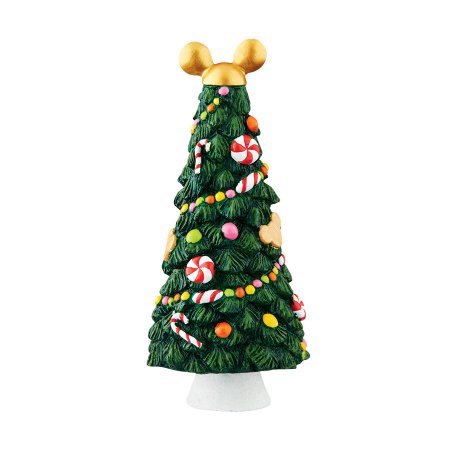 Oh, if only it were true! Now, we get to pretend there is such a place as Mickey's Ski Chalet, nestled somewhere deep in the Swiss Alps, or slightly southeast of the La Brea Tar Pits.
What's cuter than one snowman? Three snowmen wearing Mouse Ears! This Mickey Mouse Three Mouseketeers Accessory will add so much cuteness to your Snow Village, you won't be able to stand it!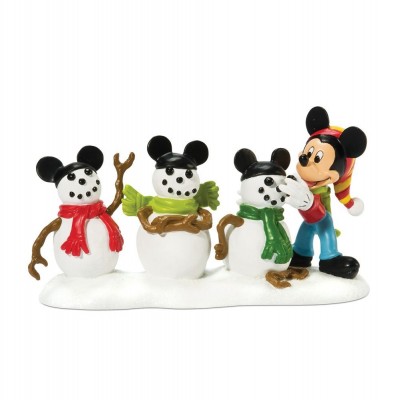 Well, the Mickey Mouse Ears don't make THEMSELVES, of course! They're carefully crafted to the specifications of each and every person's head all around the globe, at Mickey's Ear Factory, because Mickey and his Pals KNOW we'll all own at LEAST one pair at some point on our merry little journey!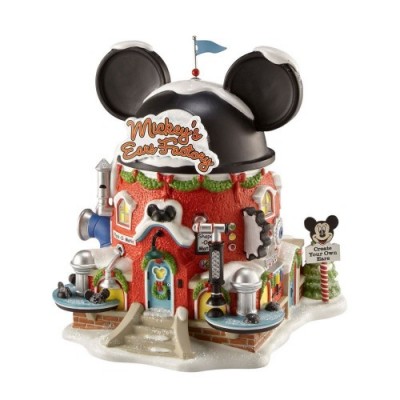 Here's a home that's festive every day of the year! Get treated with extra special sweetness at Minnie Mouse's House!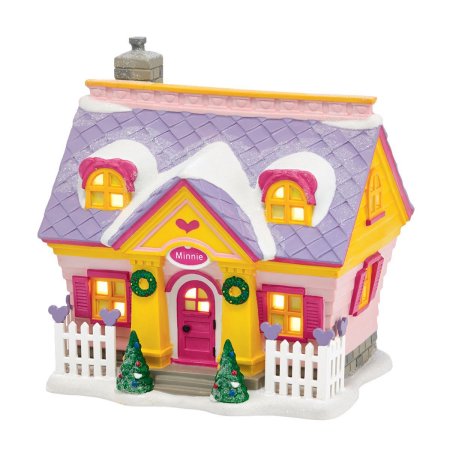 Welcome to Mickey's Village! Like the Tree of Life, the Epcot Ball, and other giant Welcome Home Signs located in the Parks all over the world, this Mickey's Village Water Tower will announce to the world (or at least the people in your living room) that they have arrived at the World's Cutest Snow Village!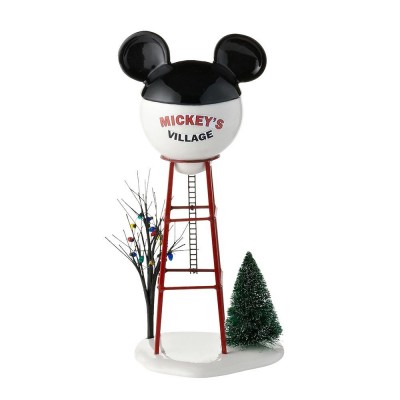 Because even tiny, porcelain people like to Pin Trade! We'll gladly add this fun Disney Pin Traders Store to our little village!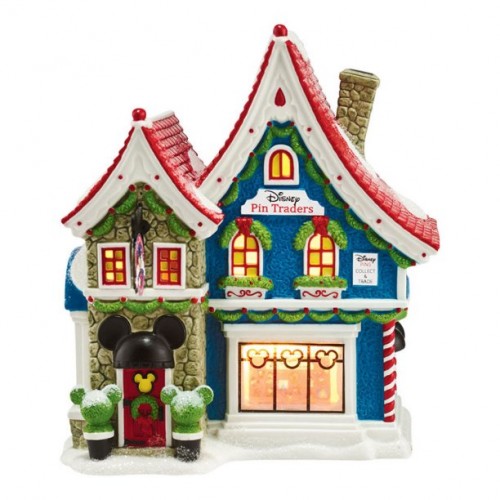 Street Lights, People. Don't stop believing in the awesomeness of your Christmas Village. Make it extra adorable with these Mickey Mouse Street Lights!
Woo Woo! Happy Train coming through! I don't know where the connection of trains and Christmas began, but they TOTALLY say Merry Holidays, don't they? Celebrate this merry holiday with a Disney Holiday Express Train to go in your merry little village!
How many ducks does it take to scale a Christmas Tree? Four, apparently, in this wacky scene. Actually, I think they're singing the scales rather than scaling the tree in this Department 56 Figurine with Goofy, Donald, Huey, Dewey, and Louie. Wonder if they're on key? I won't be placing any bets!
There's More Where That Came From!
Check out more great holiday finery and gift suggestions that are Disneyfied on our Disney Gift Guides Page!