Share This
How To Keep Your Kids Occupied On The Way To Disney
Stop touching me. I'm thirsty. Make her stay on her own side! Ew, what's that smell? He's looking at me weird! How much longer?
Ah, the soothing sounds of the family road trip. Almost like a lullaby, really. The kind of lullaby that makes you go "Why am I traveling with these people, again?"
Whether you're venturing by road or rail, ship or sky, we've corralled a few things to help keep your family adventure as smooth and rapid-fire-comment-free as possible.
1. Your Own Moving Billboard

Not sure how the flight attendants would feel about this idea, but if you're traveling by car and the driver's down with it, why not let the kids draw on the windows with some bright and fun Glass Markers?
2. Are We There Yet? Are We There Yet? Are We There Yet?

This trick will work for just about any mode of transportation and all you need are a few supplies that you may already have lying around. Grab some construction paper, like the kind pictured above, some tape, and a pair of scissors. Cut the paper into small, 1 inch by 5 inch, strips and tape together to make a paper chain for the number of hours you'll be traveling.
Maybe use black, red, and yellow to make it extra Mickey-ish. Let the kids pull off a loop with each hour that goes by (taking turns, of course–no fighting or biting!) and you'll be there before you know it!
3. The Only Time We'll Encourage You to Be a Rubbernecker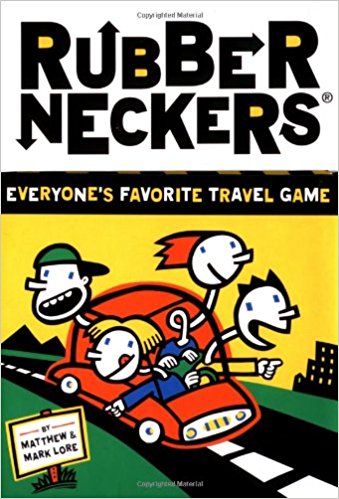 This super-fun card game, Rubberneckers, is best suited for the car, but the whole family can get involved. Each card gives players a challenge to accomplish (Get a truck driver to honk his horn) or a thing to find (a mile marker sign) in order to earn points. First player to 100 points wins!
4. That's Entertainment

This one I'm betting you could use in a car, on a plane, on a train…in a box, with a fox…it's super versatile. After you get this Travel Tray in your possession, load that sucker up with:

* crayons
* coloring books or coloring sheets you print out
* Mad Libs
* snacks
* a Disney Plush (we like the kind that smell)
* some Wikki Stix
* mermaid slime (here's how to make it)
* a fidget spinner
and, if that's not enough, stick an electronic device in that pocket!
5. Acquire and Ration
One of our favorite tricks on the road is to gather up a bunch of trinkets beforehand and dole them out over the course of the trip, usually around the time we're having our kiddos pull off one of the paper chains. You might just want to dole out the crafts from #4 a bit at a time instead of with the Travel Tray, or if you just want to make sure you have a thoroughly-prepared toolkit, grab some extra knick knacks to offer up as a surprise. Some of our favorites: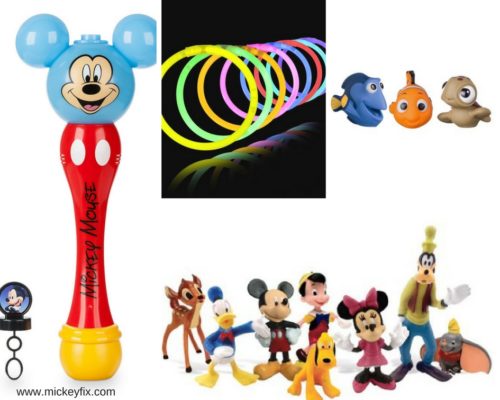 * cute little Disney Characters to play with
* glow sticks for use at the night parades – you can grab a few at the Dollar Store, or buy in bulk here.
* bath squirters, that they can play with now AND in the tub at the hotel
* a bubble wand to help kill time waiting in line for attractions
So, there ya have it. Some of our Favorite Time Wasters for your trip with your beloved family. Here's hoping you'll try and love some or all of these tricks on your vacation, to keep your family on the beloved side!
Check out all of our other fun and helpful How Tos right here, as well as our cleverly curated Disney Gift Guides!