Share This
Tags
Disney Theme Park Edition III Monopoly Board Game
Take home the magic and continue the park fun long after the fireworks have gone dark and the Main Street Emporium has closed with the Disney Theme Park Edition III Monopoly Board Game!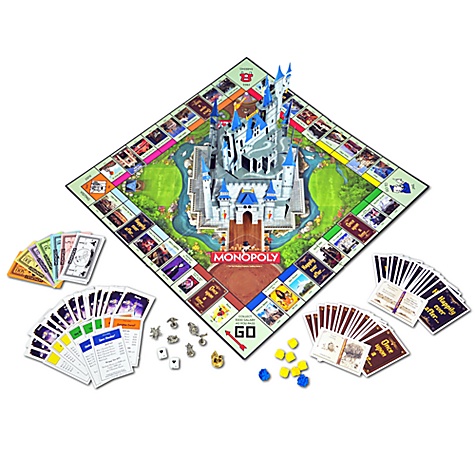 Snatch up your favorite attractions from the Enchanted Tiki Room (Dole Whip, anyone?) to prime real estate Space Mountain as you race around the park.  Just try not to get caught by Maleficent's Evil Spell Tax!  Watch out for Once Upon A Time and Happily Ever After cards; they may help or hurt your chances of owning the whole park. Refurbishing your attractions becomes Disney-fied with Toontown houses and princess castles in place of Monopoly houses and hotels.
The game board features classic and recently added attractions from both Disneyland and Disney World for players to purchase while racing around the pop-up Cinderella castle.  Stop by and say hello to Walt and Mickey in front of the castle before you pass Go!  Enjoy the park at home as Sorcerer Mickey, Princess Minnie, Tourist Goofy, Tink, Abominable Snowman or Figment.  Overall, this game is an awesome way to reminisce about days gallivanting through the parks.  The only thing missing in my opinion?  A pop-up churro stand.  Guess we will all have to hold out until the next trip to Orlando and Anaheim.
If a Disney Theme Park Edition III Monopoly Board Game is a must have in your book, you can find it here!
Have A Friend Who Needs This?
Send them an Email!