Share This
Tags
Disney Tabletop Christmas Tree
Small decor, ginormo impression!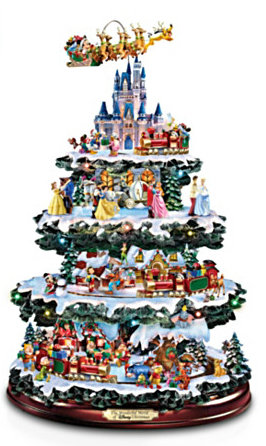 You, you family, your neighbors, people walking their dogs down your street: all will be mesmerized with this Disney Tabletop Christmas Tree if you display it in just the right spot (think Leg Lamp from "A Christmas Story"). It's got all the right action words going for it: It lights up! It twirls! It sings songs! Those outside your house may stop by your lawn and gaze in a little longer. Those inside will be enraptured for hours by this 16″ Christmas Tree for your Table that's covered top-to-bottom in 50 of our favorite Disney characters, all hand-painted and ready to entertain you and your guests, singing Christmas carols, dancing, twirling, and sleigh-riding on four independently-moving tiers of Christmas overload! This tree is part of a limited-edition, hand-numbered collection from Hawthorne Village for Bradford Exchange.
Have A Friend Who Needs This?
Send them an Email!