Share This
Tags
Little Mermaid Treasure Chest Necklace by Disney Couture
Look! It's a wearable chest filled with whozits and gizmos and thingamabobs!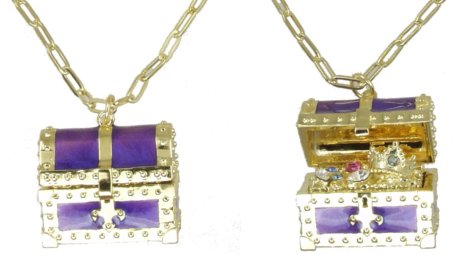 I'm not sure if it contains any actual Dinglehoppers OR Snarfblats, but Thingamabobs? Most def. This is an awesomely whimsical Little Mermaid Treasure Chest Pendant and Necklace by Disney Couture, which I think is just the cutest. The chest and the necklace are gold plated and the little chest is purple, marbled enamel. The chain is 30-32 inches long and has a (what else?) lobster clasp. Perfecto for the Ariel fans swimming around your cove.  Plus, right now, you can snag it up for only 55 clams!!
Have A Friend Who Needs This?
Send them an Email!