Share This
Tags
Star Wars Han Solo and Princess Leia Towels
Oh, Han Solo, you were master of the snarky comeback, weren't you?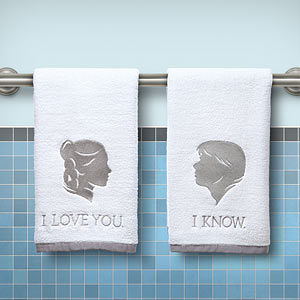 Well, how does it feel when we wipe the peanut butter off our hands…on your FACE? Just kidding. Your face is too pretty to be buttered. But don't let it happen again or we could change our minds. For all Star Wars fans in love with the "I Love You" "I Know" scene from Empire Strikes Back, these Han and Leia Hand Towels are the perfect memento. Comes in a Fab Necklace Version, too, for your favorite cosmos-lovin' lovebirds!
Power Up: Save 20% off in honor of Warwick Davis' 44th Birthday with code CHARMS! Happy BD, Wicket! We <3 U!
Have A Friend Who Needs This?
Send them an Email!