Share This
Tags
Star Wars Lightsaber Candlestick
Could you pass the potatoes, please, Admiral Ackbar?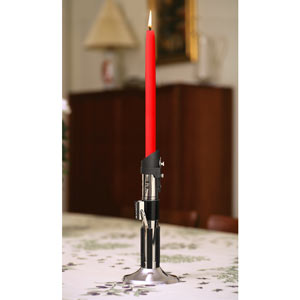 Ahhh…nothing like dinner with a few close friends. Food can bring the grouchiest of frenemies together. A good pork loin could even bring Darth and Leia to the table, and not just to discuss over Battle Station plans and/or Leia's abandonment issues. For your next dinner party for the Imperials and Rebels in your life, why not adorn your table with a Lightsaber Candlestick to set the mood? This candle holder is made out of metal and is exclusive to Think Geek. Plus, right now, the Candlesticks are on sale for $23.99 and are Buy One Get One 50% Off! Plus–are you ready for this?–you can take an additional 25% off their sale items with code SNAGITSALE! But, you'll have to use the force of your mouse to get their quickly…this lightsaber deal is going lightning fast and is over at 11:59 pm October 23!
Have A Friend Who Needs This?
Send them an Email!