Share This
Tags
Disney Dooney & Bourke Comics Tassel Bag
We've got Big Love for Big Bags.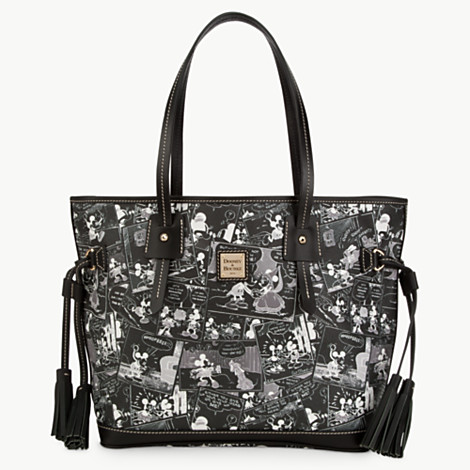 And when those bags are Disney Dooneys, our hearts are not only filled with love, they skip a beat and down the street! This Disney Dooney Tassel Bag is as gorgeously created as any of the rest, but it has one, extra really cool feature: the comics of Mickey and the gang are in the negative. The blacks are white and the whites are black, adding a really cool layer of wow to it. The rest of the features are unmistakably Dooney: all leather, all the time; pegged feet on the bottom; pockets, pockets, and pockets; and a zip closure with a leather pull. Plus, a gorgeous red lining! Also, Disney Store is offering a special on their Dooney Comic Cosmetic Cases with a Dooney purchase. Just enter code DOONEY at checkout and score a Cosmetic Case for $35!
Do you dream of handbags? It's okay. Totally normal. We love them so much, we've stayed up late making a list of all of our faves. You can check out our Favorite Disney Handbags here!
Have A Friend Who Needs This?
Send them an Email!