Share This
Tags
Disney Food Blog Guide to Disney Dining 2013
It's back! It's updated! It's got more food than you can shake a Pocky Stick at!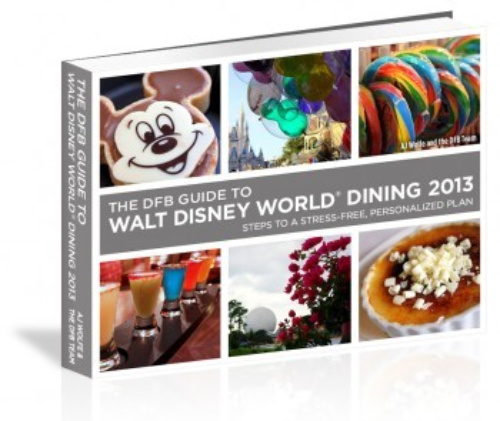 It's the new DFB Guide to Disney Dining 2013! And my copy currently has drool all over it, if we're just being honest here. I downloaded mine to my PC and proceeded to drool RIGHT on the keyboard. This downloadable e-book, brought to you by AJ Wolfe and the Fab Team over at Disney Food Blog, is chock-full (420 pages full) of the best Disney Dining advice around, with a 5 Step Plan for Stress-Free Planning.  The 2013 version has been updated with 100 new pages, includes lots of budgeting worksheets and calculators to help you strategize your next Food Fest around The World, and offers hints and tips on getting the most out of your Disney Dining Plan (including some thoughts on whether it's worth it to get the Dining Plan at all). To celebrate the book launch, DFB is offering $4 off the purchase price when you enter code 2013 at checkout. They'll knock $6 off your purchase price of the 2013 guide if you ordered last year's edition, too. Just e-mail the DFB team directly and they'll send a special code your way. Just cover your keyboard or your tablet, folks. I don't want you to short-circuit anything like I almost did.
Have A Friend Who Needs This?
Send them an Email!