Share This
Tags
Disney Sketch Leather Dooney & Bourke Wristlet
Happy Valentine's Day, Mickey Fixers!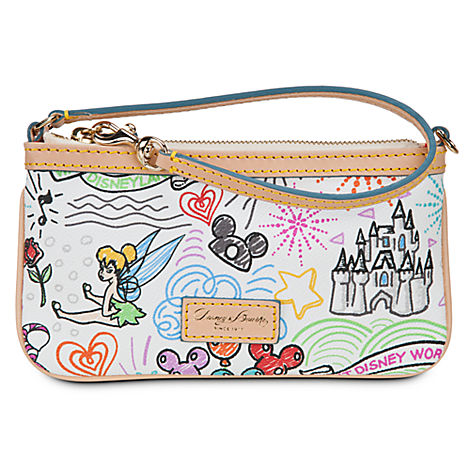 I wish I could tell you that if you haven't gotten her something already, you're off the hook, but you're so not. May I suggest going online here and snagging up this Disney Sketch Dooney and Bourke Wristlet, print off this picture, and make her  a very sweet handmade card that says "LOOK WHAT'S COMING TO YOUR HOUSE IN A COUPLE OF DAYS"?? Because that just MIGHT get you back in her good graces. I'm not promisin' nothin', but it's worth a shot my friend. You don't want her givin' you the Tink Stink Eye like the Girl in Green is up there, just because you forgot a very important, yet very made-up, Hallmark holiday. Plus: a procrastinator's reward (and those don't come around every day!)–save 25% off your ENTIRE ORDER when you enter DISNEYPAL at checkout. Stack that with code SHIPTODAY and you'll score yourself some Free Shipping, to boot! Procrastinator's Valentine's Day Delight!
*UPDATE* Sorry, friends: the DISNEYPAL promo won't work on them-there-fancy-Dooney-bags. (SHIPTODAY code will, though!) But there are TONS of other cool things that will score you 25% off, like this awesome Mickey Mouse Heart Pendant or this Minnie Mouse Bow Ring from Disney Couture!
Have A Friend Who Needs This?
Send them an Email!