Share This
Tags
Disney 'Twas the Night Before Christmas Lighted Sculpture
Oooh, lookie! It's a happy, wee, little Disney Christmas Village, right in my living room!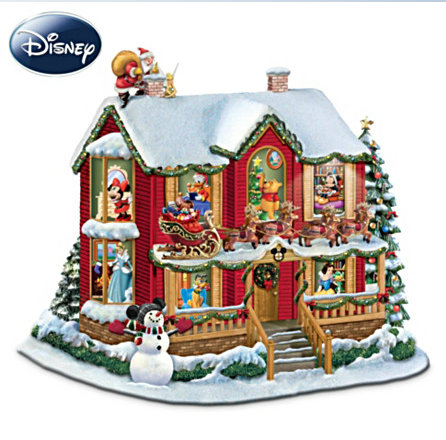 I'm a big softie when it comes to the whole Christmas Village thing. I guess it's because my mom always had one up with all of the fake snow all around, and the cute carolers with their mouths in perfect O's in front of the light-up houses, and the little barber shop with its candy striped pole swirling around, covered in the white stuff. It was a magical place just to sit and watch and make up fake backstories for all the tiny people, many of whom, in my mind, were in various stages of frost bite recovery.
Now that I have my own Christmas Village, it has more of a Mickey Mouse flavor to it. This new Disney Christmas Sculpture  is going to fit in JUST RIGHT. Mickey narrates "'Twas the Night Before Christmas" as each of the rooms in the house light up as the story unfolds. Truly a magical piece to add to any Disney Christmas Village.
If you're looking for more Christmas magic, look no further than our Disney Gift Guides! There's guaranteed to be something for everyone!
Have A Friend Who Needs This?
Send them an Email!