Share This
Tags
Kinect Rush: A Disney Pixar Adventure for Xbox 360
Well, I think I've found the thing that's going to push me over the cliff into buying an Xbox.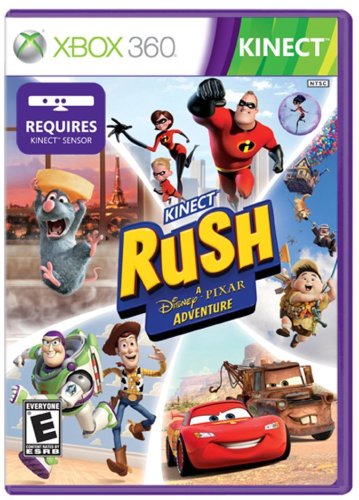 I can hold out no longer. Resistance, as they say, is futile. This game, Kinect Rush,  just looks downright fun! And from the reviews I've been reading, it doesn't disappoint! Through the magic of the Xbox Kinect thingamagigy (I'll have the lingo down better once it's mine…all mine!), you are scanned into the video game in order to play alongside your fave Pixar dudes: the Incredibles, Russell and Carl, Remy, Mater and Lightning, or Buzz and Woody, and you get to get your whole body in on the action. Which, I guess is why people dig the Kinect thingamagigys anyway. Watch out, Xbox World! I'm joinin' your ranks! And I'll be rackin' up points with my whosamachit before you can say "E for Everyone!"
Have A Friend Who Needs This?
Send them an Email!