Share This
Tags
Mickey Mouse Lounge Pants
Six letters, my friends: L-O-U-N-G-E. These pants had me at "L" …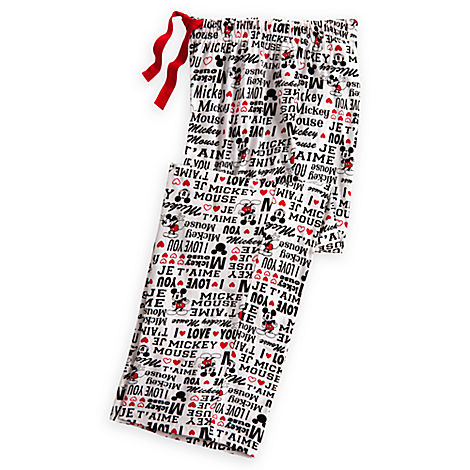 They're made out of the same stuff jersey sheets are made out of, so it would be like walking around with two t-shirts on your legs, but without the awkwardly misplaced holes. So, in other words: Heaven in Pants Form. Here's another thing that has me in love: Disney Store Online has released a code that will knock 15% off the prices they've already marked down, up to 60%! So these Mickey Mouse Lounge Pants that are comfier than wearing butter itself, have already been marked down to a comfortable $15, and would now get an extra 15% off when you enter code BONUS at checkout. I'll take a pair for each day of the week, please.
I also noticed a lot of the Mickey Fix Features of the Past were marked down, which will likely make them eligible for the 15% off  BONUS code deal. Here's a list of our past faves that I found on sale and IN STOCK last night:
Mickey Mouse Club Notecards – reg. $12.50, now $5.99 (all the prices I'm listing are BEFORE your 15% discount)
Mickey Mouse Sequined Holiday Pillow – reg $59.95, now $31.99
Disney Villains Cosmetics Bag – reg $19.50, now $7.99
Spooky Series Goofy and Pluto Vinylmation – reg $26.95, now $14.99
Disney Villains Nail Polish Set – reg $29.50, now $12.99
Maleficent Mistress of All Evil T-shirt – reg $19.50, now $7.99
Minnie Mouse Necklace by Disney Couture – reg $75.00, now $34.99
Mickey Mouse D23 Anniversary Plush – was $19.50, now $9.99
Figment Vinylmation – was $24.95, now $4.99
Don't forget to enter code BONUS at checkout for your 15% off most sale items, up to 60%.  And if you find enough fabulousness to equal $75 or more, Disney will cover your shipping when you also enter code SHIPTODAY. What a great day to put on some lounge pants and do some shoppin'!
Have A Friend Who Needs This?
Send them an Email!