Share This
Tags
The Strange Case of Origami Yoda Hardback
This one's for anyone who's ever been an outsider.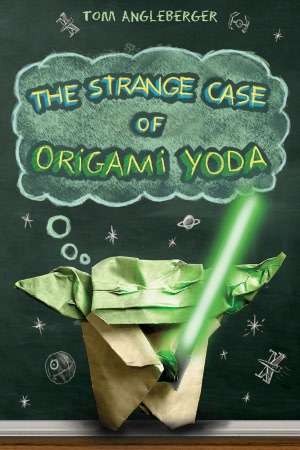 Sixth-grader Dwight is a giant dork. (I love him.) He's sweaty and shy and finds it hard to talk to people. So, he does what any ordinary socially-awkward sixth-grader would do: constructs a Yoda out of paper, and uses it as a puppet to talk to his classmates. (Now YOU love him too, right?) Turns out, Origami Yoda knows all: from when the next pop quiz is coming up to who stole the classroom Shakespeare bust. Don't you love a good underdog story?
This is the first in the Origami Yoda trilogy from Tom Angleberger, so be sure to check out the next two, too: Darth Paper Strikes Back and the hot-off-the-press Secret of the Fortune Wookie. Dorks Win!
Have A Friend Who Needs This?
Send them an Email!