Share This
Tags
Alice in Wonderland Necklace
Put this on and take a slip you know where!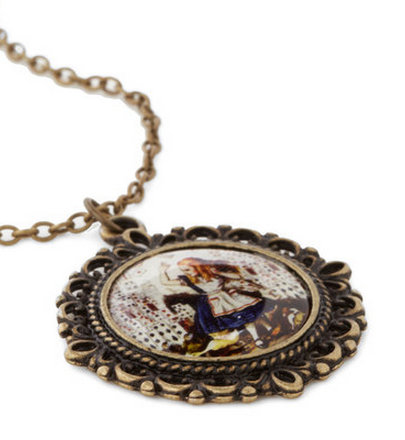 This fantastically whimsical Alice in Wonderland Necklace is just the thing to top off a breezy tee or a flowy dress. Which is the perfect thing to be wearing when you find yourself falling 500 feet down a rabbit hole. Then you'll be sure to at least look nice when you're communicating with Talking Cats and having tea with People in Large Hats Who've Been Sniffing Too Much Glue.
If you're as fond of this necklace as we are, why not pay a visit to our Awesome Disney Jewelry Page to find even more shinies to love? Also, check out our Fab Finds Under $50 section for some great stuff on the cheap!
Have A Friend Who Needs This?
Send them an Email!