Share This
Tags
Framed Limited-Edition 'Plane Crazy' Mickey Mouse Cel
It takes a lot to make Mickey lose his ears!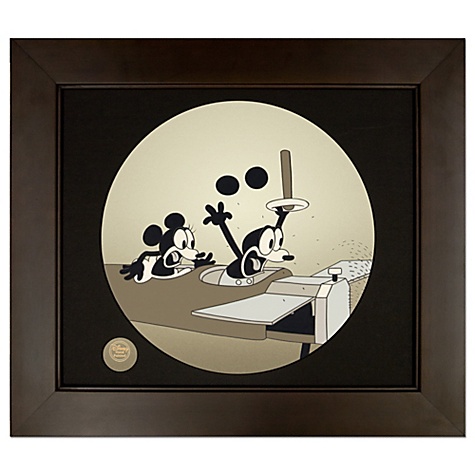 But when the plane he's manufactured from tractor parts starts acting wonky and he winds up with the steering wheel in his paws, Our Beloved Hero starts to lose his cool. This limited edition, numbered cel captures that moment of panic in gleaming black and white, hand drawn and painted by the amazing artists at the Disney Animation Ink and Paint department at Disney's Hollywood Studios, and printed on archival gisleé.
The really cool thing about this cel is the piece of history it captures. The scene is from Disney's 1928 short Plane Crazy, technically the first film to feature Mickey Mouse. It made its debut as a silent film to a limited audience, but never got "picked up" as they say in the biz. So, a few months go by, out comes Steamboat Willie in all its audible wonder, audiences are fascinated, and Voila! Steamboat steals Plane's thunder becoming the "official" first cartoon featuring Mickey Mouse. So hang this beautiful piece of Americana on your wall and regale your friends with your Amazing Knowledge of Disney History, and teach them a thing or two about the REAL first Mickey Mouse cartoon. Or just spout out words like "cel" and "gisleé" and watch their eyes glaze over. Either way, you'll feel like a rock star, with a piece of Walt himself hanging on your wall.
Have A Friend Who Needs This?
Send them an Email!