Share This
Tags
Kingdom Keepers Book Series
JUST making sure every person with has a kid who enjoys fantasy fiction knows about these books!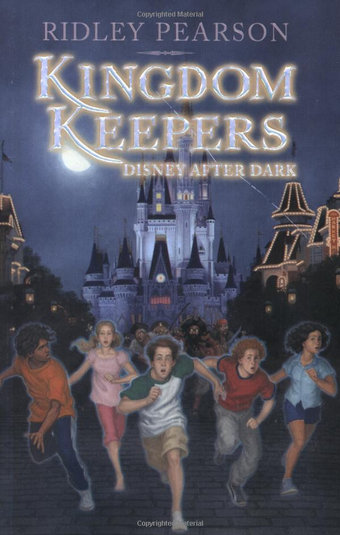 There could be one or two of you out there that haven't heard this fantastic series, so I'm doing my due diligence to make sure everyone is in the loop! You must check out Ridley Pearson's Kingdom Keepers: Disney After Dark series. The gist of the 5-s0-far book series: a group of young teens are asked to participate in Disney's new hologram guest hosting technology, acting as holographic guides for folks touring the parks. One kid wakes up to find himself transported into the Magic Kingdom after hours to find some crazy stuff going down. Maleficent and a band of Ne'er Do Wells called the Overtakers are involved, so confidence is NOT high that our Beloved Kingdom will remain The Happiest Place on Earth for long.  Good, fast-paced, suspense-holding stories for Disney fans of every age. Makes for a good family read-aloud or for independent reading for elementary and up.  Also available for Kindle and other e-readers. Plus, Fun Fact about Ridley Pearson: He plays in a charity-raising, all-author band, called the Rockbottom Remainders, with the likes of Dave Barry, Stephen King and Amy Tan. What?! Love him even MORE now!
Have A Friend Who Needs This?
Send them an Email!