Share This
Tags
Limited Edition Star Wars Moleskine Planner
The hardest part for me right now is deciding which one to get.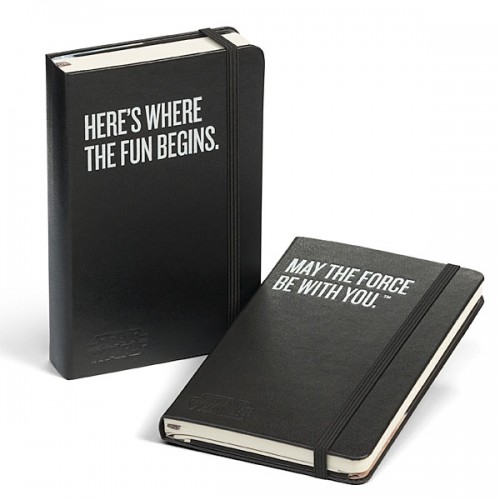 There's four to choose from and I'm feeling a little overwhelmed at the moment by my options. What a fantastic problem! Here's the low-down: your can choose Daily or Weekly, Small or Large, and Cool Quote, Super Cool Quote, Uber Cool Quote, or Freakishly Awesome Quote. (You get to pick which quote is which, though!)
The deets more number-y for those of you who like it that way:
Small – Weekly – 3.5″ x 5.5″ x .5″
Small – Daily – 3.5″ x 5.5″ x 1″
Large – Weekly – 5.35″ x 8.5″ x .5″
Large – Daily – 5.35″ x 8.5″ c 1″
On the Small Weekly, Luke says, "May the Force Be With You."
On the Small Daily, Han says, "Here's Where the Fun Begins."
On the Large Weekly, Yoda says, "Do. Or Do It. There is No Try."
On the Large Daily, Vader says, "Don't Underestimate the Force."
See what I mean? How do you narrow that down to ONE CHOICE? I may need a few. One for daily notes about crazy things that I witness during an average day; the other for events that I'm actually required to show up for. One more reason why you need one of these awesome things, too: Sale, Baby. SALE! Each is up to 25% off if you shake a tail feather on over to Think Geek. Click here to travel at light speed to check 'em all out!
Have A Friend Who Needs This?
Send them an Email!