Share This
Tags
Disney Food Blog Mini-Guide to Magic Kingdom Snacks e-Book
Celebrating one of the best reasons to visit Disney World: The Yums.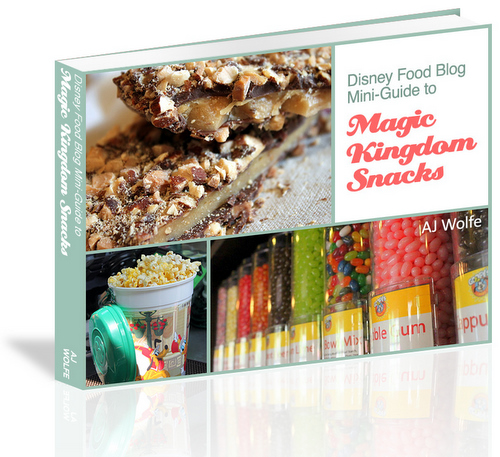 Seriously, just because that little brochure they hand you says your Disney Snack credits are good for a bag of popcorn, an apple, or a bottle of water…they SO don't mean it. Those are mere suggestions…much like 55 mph is a "suggestion" on an interstate (I kid, I kid…Really, Officer, I kid…) But there's SO MUCH MORE that you can do with those snack credits that one might realize. (You can get a funnel cake with sugar and cinnamon at Sleepy Hollow for a snack credit, for instance. A WHOLE FUNNEL CAKE, people.)
So, here's the deets on this fun and fabulous Snack Guide: AJ Wolfe and the team at Disney Food Blog, who are the knowers of ALL THINGS EDIBLE at Disney World, have published a new e-book that is instantly downloadable to your e-reader or computer that contains more than 100 pages of drool-worthy snacks that the Magic Kingdom has to offer, whether you're on the Dining Plan or not. They're offering a special code right now, worth 2 bucks off, if you download real quick-like: click this link and enter code MAGIC 13, and score this fabulous Mini-Guide to Magic Kingdom Snacks e-book for just $8.95. That's a killer deal with a cherry on top!
Have A Friend Who Needs This?
Send them an Email!