Share This
Tags
Disney Illuminated Rotating Star Tree Topper
You know, sometimes a mere STAR atop your Christmas Tree just isn't enough.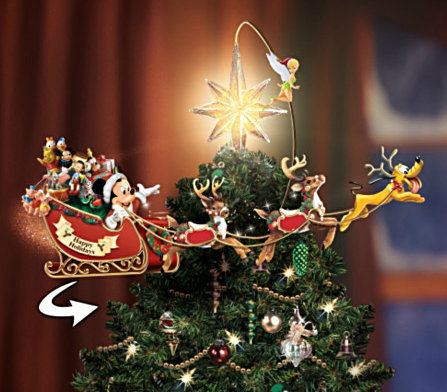 Sometimes, sometimes, you need a star that glows. And rotates. While Santa drives his eight jolly reindeer around the top of your tree. Dressed as Mickey Mouse. So, if you've got a tree in your house who's dying to be the center of attention, this Illuminated, Revolving Santa Mickey Tree Topper will surely make him One Proud Fir. Tinkerbell flutters above, scattering pixie dust on the star, which then causes the star to glow, and then causes the sleigh to move around…at least that's the only sensible explanation I can come up with. Click here to see the thing that's going to make your tree the envy of all the other trees in the neighborhood.
Have A Friend Who Needs This?
Send them an Email!